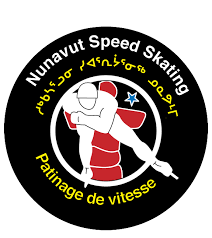 Welcome!

The Nunavut Speed Skating Association (NSSA) is our territorial sporting organization dedicated to advancing the health, recreation, competitive spirit and fun of our members through the thrilling sport of short track speed skating.
Located in the Arctic region of Canada, our members represent the diversity of the Inuit peoples of Nunavut from our three regions of the Qikiqtaaluk (Baffin), Kivalliq and Kitikmeot ~ the largest cultural group in our territory ~ as well as residents from across Canada and new Canadians, that call Nunavut home.
Our clubs are unique, as all of our communities are isolated fly-in communities, and our members and athletes speak a range of local Inuktut language dialects, from Inuktitut to Innuinaqtun, as well as English and French. Our unique geography, history and growing territory, which was established on April 1, 1999, makes us the youngest speed skating association in Canada ~ but guaranteed when you see us at competitions, we have the most spirit! Our clubs currently include the Iqaluit Terns and the Cambridge Bay Blades.
As a testament to our high level of performance and dedication to the sport, we are pleased to have earned the highest number of medals at the 2018 Arctic Winter Games in Hay River, NWT in March 2018. Our youth represented our beautiful and diverse territory spectacularly! It is a testament to the high quality of coaching, Board leadership, youth maturity gained through this sport, and volunteer engagement. It is unfortunate our dreams were dashed in 2020, by the global pandemic, which forced the cancellation of the 2020 AWG and our skating season in March.
We welcome all ages to join our speed skating program, which runs from September to May annually.
If your child or teen is interested in learning a new sport that supports individual accomplishment, team camaraderie and opportunities for sanctioned competitive level skating, the NSSA offers a positive, healthy and fun recreation and sport option.
We look forward to welcoming you to one of our active Clubs in Nunavut!
For more information on the NSSA or registration, please contact
speedskatingnu@gmail.com
---
---
---
Thank you to our government and corporate sponsors